Our startup teams represent a wide range of industries and stages.
The startups who have completed our Accelerator program come from a variety of different industries and backgrounds.
We've worked with both product and services startups in food, education, healthcare, agricultural, sports industries. Founders have been community members, undergrad and grad students, and faculty members.
"Since everyone in our team was a newbie in the startup world, we really didn't know what to expect. After completing the program, our product is now more focused on solving a problem, not just adding features."
Joe Kitonga
Founder, What's Poppin'
Spotlight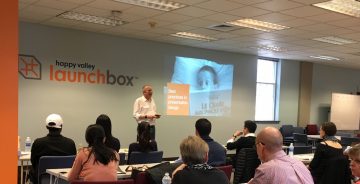 We were lucky to have Herbert Reininger, Creative Director for Penn State Outreach, as our 1st speaker in our Spring Speaker Series. In a nutshell, here are his top 7 ...
More